* fields required for registration; data can be completed in account settings after logging in
** establishment of a student account follows verification of the validity of the student ID card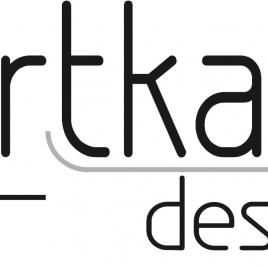 Website

E-mail adress

Address

Phone number

* click on the selected item to view its data
Artkam Design
We don't do average, normal, ok, standard interiors ... every project is different, and the goal is to show that design can stimulate the way clients live and make them happy.
Art to interiors, interiors to art
This is the guiding motto of Artkam design studio and its owner Kamila Sitak - interior designer, designer and painter.
As part of the activities of the Artkam interior design studio of the guiding slogan, we offer you not only the projects themselves or turnkey project service, but also retrofitting them with unique items.
We also advise on the design of professional lighting dedicated to art collections.

"Emotion, passion, dance" - this is how the collection of unique paintings by Kamila Sitak can be described in a nutshell .She has attracted audiences on 5 continents with her paintings.
In 2020 her works were included in the Australian curatorial publication "Leaders In Contemporary Art" describing the world's artists of the younger generation. The artist actively participates in solo and group exhibitions in Poland and abroad.

Artdorre brand doors - an original collection inspired by the paintings of Kamila Sitak, made to order

ODWAGE
It's where it all starts. In order to create unique products with extraordinary design, it is not enough to have a great idea, the best quality materials and a carefully planned business plan. You have to believe that a new look will change something: surprise, enchant, be remembered. At Artdorre, we courageously create what stands out, believing that there are still new
canons of beauty that are constantly worth discovering.

BEAUTY
Any object can be beautiful. It is the designer's job to create things in such a way that, while preserving their function, we also take care of their form. Artdorre sliding doors were created out of a love of beauty. Original, expressive, non-obvious.... simply unique. Maintained in various conventions and styles, from minimalist, through art deco, to glamour
ending, are meant to open the eyes to what is "different". Because there are endless definitions of beauty.... We constantly believe that they are worth discovering.

FUNCTION
We put usability on an equal footing with beauty. Our doors are made of the highest quality raw materials - wood, stone or metal, among which natural wood predominates above all. Together with the latest generation systems, these materials form a perfect duo. Ease of installation and convenience of use are also very important to us. There is no room for haphazardness in our workshop, and all the elements form a harmonious whole, which stands out for its excellent performance.

COHERENCE
It would seem that the creation of items so obvious in form as sliding doors no longer has any secrets. And yet! Unobvious patterns, original textures, unusual inspirations - this has allowed us to create a collection in which each model can be a leitmotif of the arrangement, a perfect background for furniture and accessories or a great counter -
point that will give the interior a character.

PEOPLE
Behind every project is a person. We operate on the principle that "a dream place must be beautiful in form and brilliant in function". We create sliding doors that lead to entirely new paths. Kamila Sitak (Painter, exhibition curator, interior designer).
Open the door and make yourself comfortable! Please visit our website
www.artkam.com.pl / www.artdorre.com
Projects and implementations
(authored and collaborated)
Products for Home
– articles