* fields required for registration; data can be completed in account settings after logging in
** establishment of a student account follows verification of the validity of the student ID card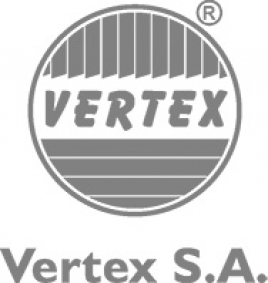 Website

Email

Address

Phone number

* click on the selected item to view its data
VERTEX S.A.
Vertex S.A. is a Polish manufacturer of internal blinds, external blinds, Roman blinds, aluminum blinds, wooden blinds, vertical blinds, Japanese panels, window pleats, screen blinds, garage doors, awnings, pergolas and mosquito nets. From the very beginning of our business, we have been producing to size and furnishings in accordance with customer requests. The range of products we offer is constantly growing with changing market trends and customer expectations. The ability to act quickly and efficiently is the basis for achieving Vertex's goals. We guarantee that cooperation with us will take place in a friendly and professional atmosphere.
We offer all types of blinds and interior shutters built on the basis of our own construction systems, using fabrics from the world's leading suppliers. Material catalogs include colors and patterns selected by our specialists based on years of experience and current trends. Vertex S.A. manufactures exterior products using components from Polish and European companies. The production process is carried out on a modern machinery park that allows us to meet high production standards. In addition to our regular offer, we are open to cooperation with customers looking for dedicated products. Our customers are companies engaged in the distribution and installation of shielding products.
Our primary goal is the satisfaction of the Recipient. We take full responsibility for our products, which is confirmed by the fact of many years of cooperation with most of our Customers on the Polish market, as well as on foreign markets. We cooperate with wholesalers, online stores, window coverings installers, developers as well as architects and designers. We provide convenient and partnership terms of cooperation. You can trust our experience in the market of window guards. More than 25 years of experience, professionalism and efficiency in action are our assets, which allow us to achieve success in the industry of window guards on the Polish and European market.