* fields required for registration; data can be completed in account settings after logging in
** establishment of a student account follows verification of the validity of the student ID card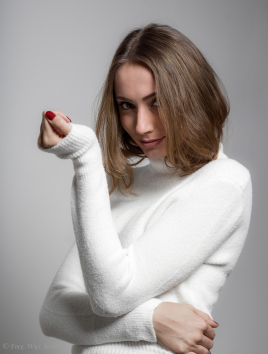 Website

* click on the selected item to view its data
Alicja Jaroszek
Graduate of the Faculty of Architecture at the Bialystok University of Technology, a Gdansker by birth. In her free time, a lover of photography and art. However, she limits her artistic invention to "two-dimensional space", combining many painting techniques, with the plasticity of drawing and the detail and lightness of graphics.
Exhibitions of author's works and vernissages in Warsaw, Gdansk and Bialystok have confirmed Alicja's
in the conviction of the right choice of her priorities. Additional motivation became achievements
in national competitions, including, among others, the 2nd place in the competition "Architectural Sketches" at the BUDMA International Fair in Poznan. Selected by NOT - Federation of Scientific and Technical Associations in Gdansk, the design of a series of covers for national technical publications initiated cooperation with subsequent publishers.
As he states: "The compromise of artistic impulse and the desire to create in the real dimension, leads me into the space of architecture."
Completed architectural projects, both as part of her studies and competition entries, are not just a confirmation of her perfect mastery of computer tools. At the core of each of her projects is a handwritten sketch - a projection of an analytical way of perception, association and synthesis ("form and image"). Uninhibited technique, visionary spontaneity and useful creativity are the key words for her projects!
Architektura & Biznes
– articles