* fields required for registration; data can be completed in account settings after logging in
** establishment of a student account follows verification of the validity of the student ID card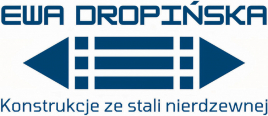 Website

Email

Address

Phone number

* click on the selected item to view its data
EWA DROPIŃSKA
Ewa Dropinska's company was established in 2018 and continues the family tradition. It is based on the experience of Pawel Dropinski, who from an early age had contact with metalworking in the company of his father, Peter. As the next generation, Pawel brings a new quality in line with modern standards. Administrative matters and the first contact with the customer are supervised by the owner of the company, that is me, Ewa Dropinska.
Call me and I will try my best to get to know your needs. I know that not every customer is familiar with our industry, so first I want to know what you expect from the ordered product. Based on this, I will tailor some proposals to make your decision easier. We can also make constructions according to your design or a photo you send. If the chosen design is copyrighted, we will create something in that style especially for you.
We happened to do large projects, such as the installation of handrails on several hundred balconies in a newly built housing estate. However, we make no secret of the fact that our focus is on the individual customer, who can appreciate the high aesthetics of the finish, speed of installation and individual approach.
Products for Home
– articles